The Case-Shiller Index, named after Professors Karl Case and Robert Shiller, is an extremely useful indicator used for tracking the residential real estate prices in the United States. Following the latest publication of the index recently, we have witnessed some cautious optimism worth addressing.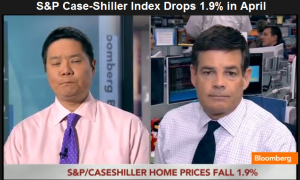 The latest index has indicated that at the time of the last publication, the prices went down at the lowest rate since late 2010 – which means on paper that the U.S. real-estate market is showing gradual signs of recovery. If we take into account a slightly longer-term perspective, it would be fair to say that in some states, we have even witnessed a 35% average decline. Moreover, in other areas that are of interest to the Israeli investor, such as California, Nevada and Florida, prices went further down by an average 50%-60%. By comparison, In New-York, the prices have dropped by an average 25%.
Many investors, among who were also many Israelis, sought to invest in the U.S. real-estate market in 2009 and 2010, taking advantage of the plummeting prices following the sub-prime crisis and the Lehman Brothers bankruptcy. Consequently, it is worth remembering that the American banks are only just now on the verge of completing the realization process of the assets which served back then as mortgage securities, without being able to allocate enough new mortgages to satisfy the investors.
Most signs indicate that we are currently close to the bottom as far as the housing prices are concerned, even though it's hard to know exactly whether we have already reached it or not. The Case – Shiller index findings indicate that the deflation rate is quite fractional in comparison to 2011. During this period the construction of not less than 760,000 houses had begun.
The most important thing to remember here is that the next two years are the most suitable time period for a long-term investment in the U.S. real-estate market, because, even if we are still not at the bottom as far as prices are concerned, a further massive decline is not expected. At the same time, and despite the fact that the American real estate market shows encouraging signs, the general economic situation does not support the scenario of rapid price increase. Hence, short-term investments are a gamble you should strongly avoid.
Two years are quite a long period of time. We encourage you to avoid going into any adventures you will eventually end up regretting. All variables should be taken into consideration. Before making your move we recommend you consult with experienced specialists who are familiar with U.S. real estate market, so that you will be able to make a well-informed decision. The profit is entirely yours.